Nootropics redefined: experience 100% brainpower
Clinically proven formulas to improve brain power


Natural ingredients and vegan friendly


Improve sleep, cognition and make your brain work faster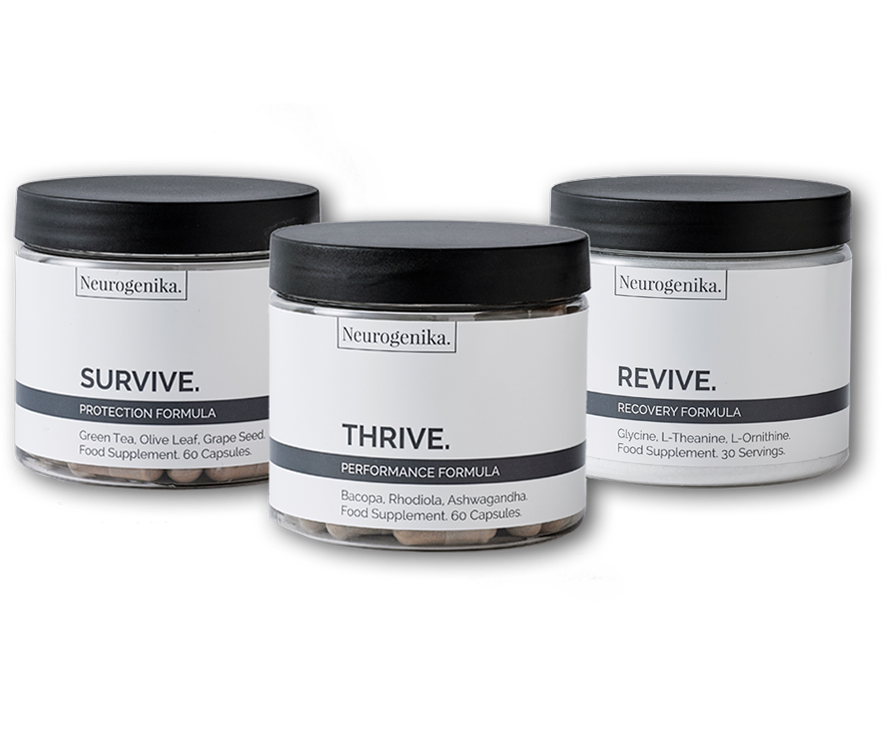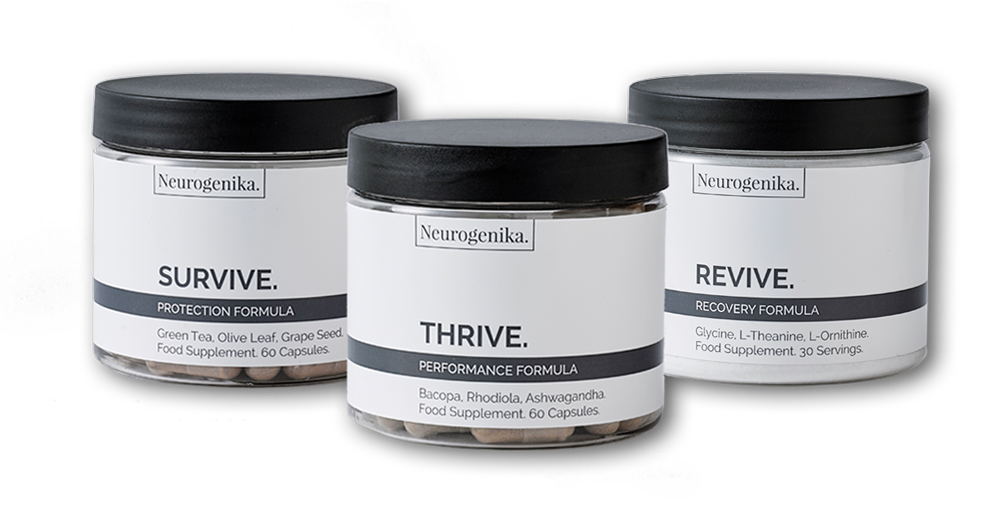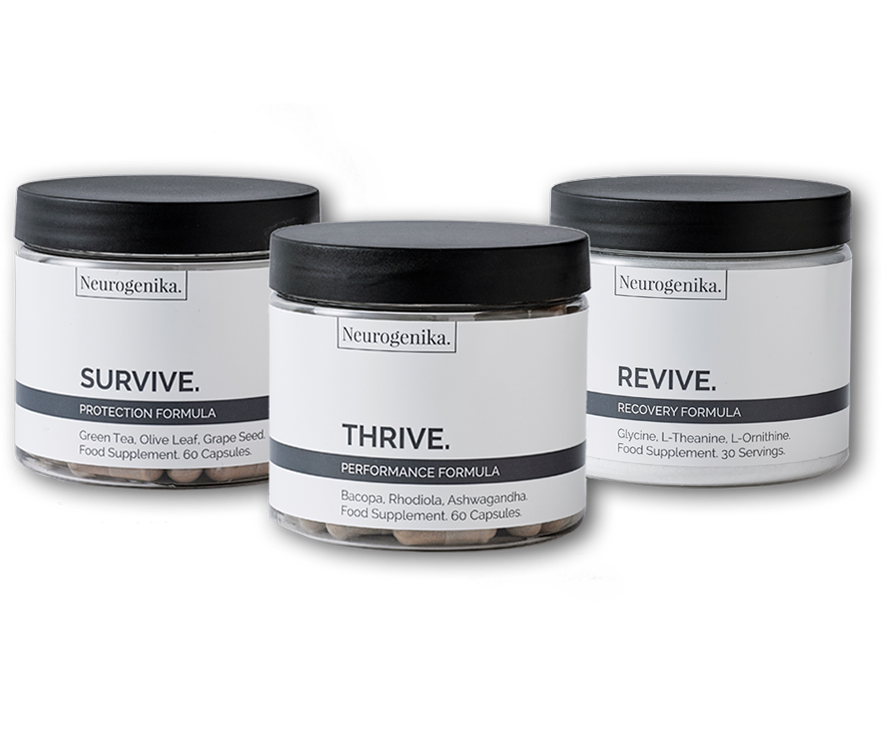 30-Day Money-Back Guaranteed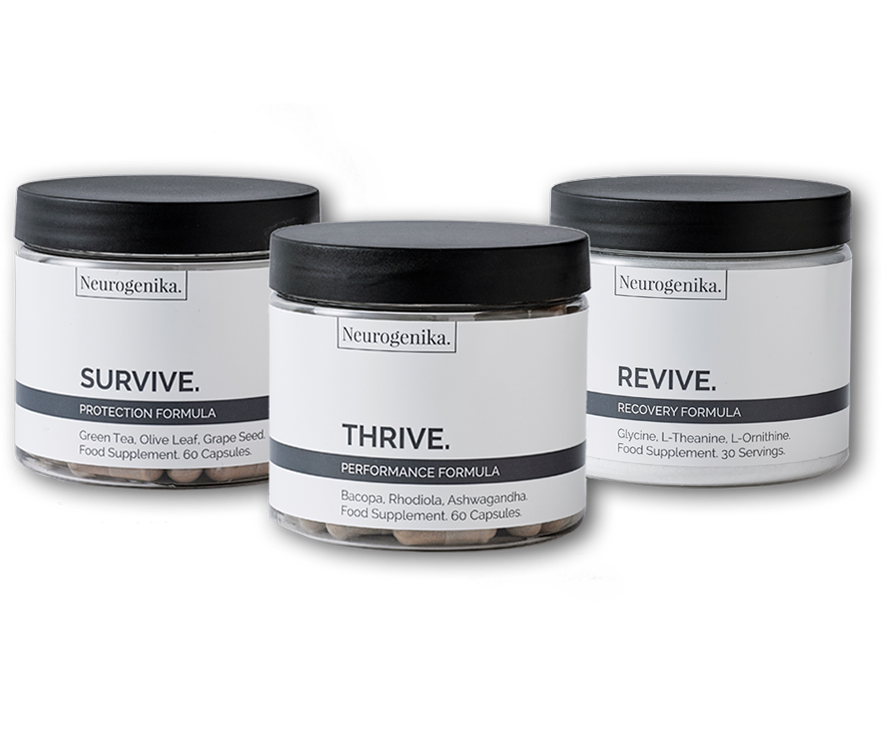 I must admit, I was a little sceptical at first about using these products but was encouraged to do so by my wife who has been using natural based supplements for some time to improve her own wellbeing. Having used the Strive toolkit for a couple of months I can highly recommend Neurogenika's products. The service has been fantastic and I have seen a noticeable uptick in my energy levels and the quality of my sleep. I'm a convert!
Working in the City and having two young children has been taking its toll and I had been feeling tired a lot. One of my friend recommended Thrive & Revive and since taking them I've noticed a big change in my energy levels, focus and sleep quality. So thank you very much Neurogenika team!
I've been taking the Strive trio of supplements for two months now and I can honestly say it's made a noticeable difference to my general well being. I run two businesses, have a two year old son and my elderly parents have lived with us for almost three months now.On top of this my father has been diagnosed with dementia.So this has been a very traumatic time for everyone. Taking these supplements has given me the optimal chance to feel on top of things, to feel focussed, in control and finding myself less stressed by the situation.I've managed to sleep deeper and longer too.
I have been taking Neurogenika for a bit over three months now; and I must say taking Neurogenika has a significant positive impact on my everyday functioning and engagement.I deal with complex multi-party negotiations and financial models at work; Thrive and Survive in the morning has enhanced my ability to focus better and I find myself being more articulate.Revive is simply amazing to end the day with. I sleep much better and wake up more energised. It is simply amazing to fight fatigue and stress.
We've built a strict quality control system to make sure all ingredients are organic.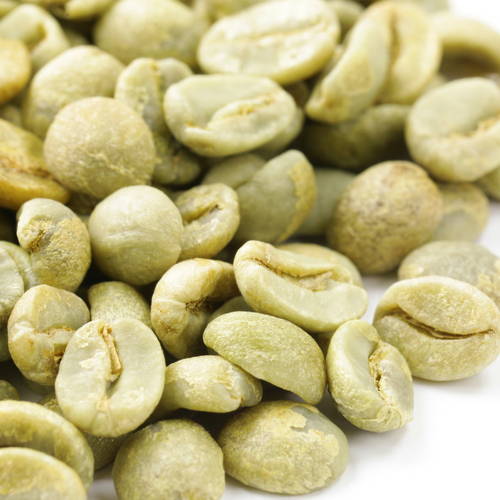 REVIVE (per daily serving, 1 heaped scoop)
Glycine – 3g
L-Ornithine – 400mg
L-Theanine – 200mg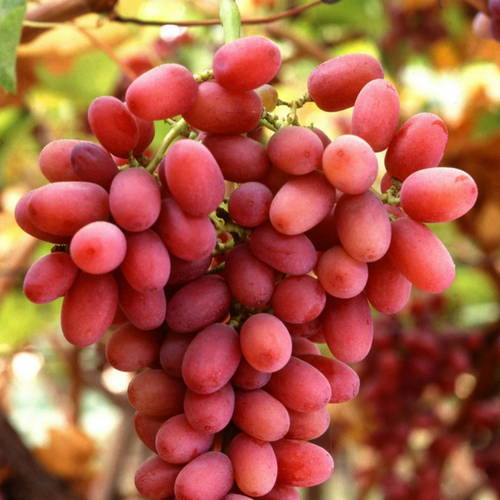 SURVIVE (per daily serving, 2 capsules)
Green Tea Extract (40% EGCG) – 500mgOlive Leaf Extract (20% Oleuropein) – 500mg
Grape Seed Extract (95% OPC) – 300mg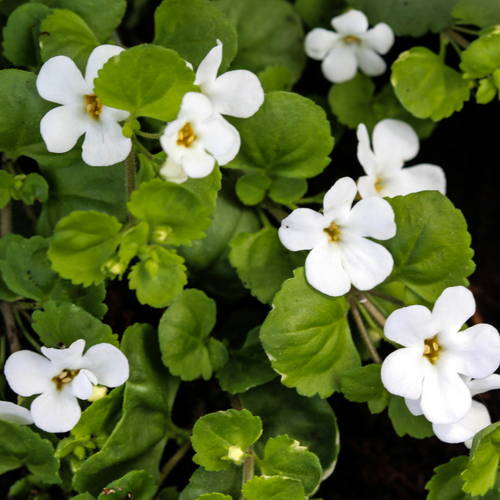 THRIVE (per daily serving, 2 capsules)
Rhodiola Rosea (3% rosavins, 1% salidrosides) – 500mg
Bacopa Monieri (50% bacosides) – 300mgAshwagandha (5% withanolides) – 300mg
30-Day Money-Back Guaranteed
The Neurogenika money-back promise
We are so confident that you will love our supplements that every purchase comes with a 30 day money back guarantee.If you don't like the product, if it just doesn't work for you, return it. Within 30 days of receipt, products purchased from us may be returned for any reason.